Stories of the struggle for democracy to deliver sustainability and for sustainability to nurture and sustain democracy are very far from new; but the idea that there might be a people's movement for democracy and sustainability is one whose multiple authors and stories are only just beginning to come together.
Inter-relating democracy and sustainable development
Environmental and social challenges like climate change are accelerating faster than the ability of current forms of democracy to cope. If democracy is to survive and thrive, it will likely have to outperform any currently or potentially competing political system in relation to those challenges. And if we value democracy itself, democratic innovation and adaptation must form a key part of societal responses to sustainable development.
One refrain in stories about links between democracy and sustainability is told in The Future we Want, the formal outcome of the 2012 UN Conference on Sustainable Development. In Paragraph 10, UN member states acknowledge the 'essential' link between democracy and sustainable development for the first time:
"We acknowledge that democracy, good governance and the rule of law, at the national and international levels, as well as an enabling environment, are essential for sustainable development, including sustained and inclusive economic growth, social development, environmental protection and the eradication of poverty and hunger. We reaffirm that, to achieve our sustainable development goals, we need institutions at all levels that are effective, transparent, accountable and democratic."
Twenty years earlier, back in 1992, UN member states had proclaimed, in Principle 10 of the Rio Declaration on Environment and Development, that:
"Environmental issues are best handled with participation of all concerned citizens, at the relevant level. At the national level, each individual shall have appropriate access to information concerning the environment that is held by public authorities, including information on hazardous materials and activities in their communities, and the opportunity to participate in decision-making processes. States shall facilitate and encourage public awareness and participation by making information widely available. Effective access to judicial and administrative proceedings, including redress and remedy, shall be provided".
Working towards democracy and transparency
Today, The Access Initiative (www.accessinitiative.org) exists as a global civil society network that promotes access to information, participation, and justice in environmental decision-making. The Council of Europe's Aarhus Convention on Access to Information, Public Participation in Decision-making, and Access to Justice in Environmental Matters, which entered into force in 2001, enshrines the essence of Principle 10 into law for its signatories, and includes a compliance mechanism which can be triggered by members of the public as well as states or the Convention's Secretariat.
In Autumn 2012 a group of Latin American and Caribbean (LAC) countries agreed on a road map to ensure full implementation of Principle 10 of the Rio Declaration. (See http://www.accessinitiative.org/blog/2012/11/expanding-environmental-democracy-latin-american-countries-move-forward-with-principle-), and hopes are high among civil society activists that a global 'environmental' or even 'sustainable development' democracy Convention might not be beyond reach over the coming years.
The difference between equality and fairness
Stories of democracy and sustainability can be told in many other ways too; ones that connect much more deeply with human values. Consider this tale from India for example.
Once upon a time there were two brothers. And when their elderly father died, he left them a cow, a blanket and a tree to share equally between them. The elder brother proposed an equal division of the property to the younger brother. The elder brother would use the blanket by night, and the younger brother could use it by day. The elder brother would own the back half of the cow and the younger brother the front half. The elder brother would own the fruiting top half of the tree and the younger brother the bottom half. The younger brother agreed. But before long, the two began to argue. For the younger brother was feeding the cow, but couldn't milk it. He was watering the tree, but couldn't eat its fruit. And he was cold at night.*
We leave the brothers there.
When it comes to democracy and its capacity to deliver sustainable development the practical ways in which formal democracy is implemented can often seem to generate outcomes that the younger brother in this story would recognise. For equality before the law, or at the polling booth, even when it is recognised, isn't the same as fairness. Rules that are apparently designed to generate 'equality' in the idea of governance of the people by the people for the people can actually foster its opposite – rising inequality; unsustainable production and consumption;  unfair distribution of resources, and practices that actively undermine environmental and social justice.
2008 saw the launch of a new organisation dedicated to equipping democracy to deliver sustainable development. The Foundation for Democracy and Sustainable Development has, since then, been working to find ways to equip democracy to deliver sustainable development.
It's easy to argue the need for change, but more difficult to identify in any detail the innovations that might just work. That's one reason why FDSD invested considerable time to the first year of the UK Alliance for Future Generations (www.allianceforfuturegenerations.org) a group of UK-based organisations and individuals working to find ways to bring long-termism, and the needs of future generations, into the heart of the UK's democracies and policy processes.
Can democracy in practice move fast enough for sustainable development?
The case for urgent action can readily be made though. Past evidence, from responses to the 11 September 2001 attacks in the United States to food riots in the global South, is that threats severe enough to generate societal crisis can give rise to public measures that bypass normal democratic processes or erode civil liberties. At the same time, it is helpful to make a distinction between temporary or short-term authoritarian measures or technocratic governance in response to specific crisis events on the one hand, and developments that might, over the longer term, erode "deep democracy" more generally.
In principle there seems to be a mismatch between the idea of the available time within which democracy will need to adapt and evolve in order to rise to contemporary sustainable development challenges (particularly if we are to escape runaway climate change), and the pace at which democracy has evolved over the last two thousand years.
Some kinds of events, though, could act as triggers for democracy to transform quickly. For example, crisis generally, like war more specifically, can slow time down when it comes to social progress: putting back the clock, rekindling old animosities and tensions that many years of social engineering, development assistance or capacity building had previously sought to address. But crisis can also speed time up by bringing people together in a common cause: it can work to accelerate the rate at which social innovation emerges; and the depth and strength of human bonds and social connections.
Developing a democracy road map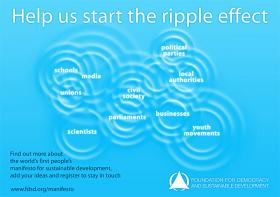 Spring 2013 saw the launch of a new initiative on democracy and sustainability. Its anchor is a manifesto, consultations for which were launched by FDSD during Rio+20, the 2012 UN Conference for Sustainable Development. Along the way many co-venturers, including Ateneo School of Government in Manila, Fundación Cambio Democrático in Buenos Aires, Christian Ecology Link in the UK, Lokh Sanjh Foundation in Pakistan, IIDMA in Spain, and Salzburg Global Seminar in Austria, have convened events or meetings to bring people together to discuss what ideas, principles and actions should be reflected in the manifesto.
The manifesto itself is a short document setting out a vision, principles and commitments that, if implemented, might kick-start a process of transformation so that people equip and infuse democracy with the institutions, policies and values that are needed to deliver a healthy environment and fairness for all, now and in the future. It addresses the problem of short-termism that besets the practice of democracy; it seeks to ensure that democracy shores up economic models and practices that are sustainable, not those rooted in unsustainable production and consumption. It stresses that people everywhere must count in the business of democracy; that global governance must be democratised; that education in its widest sense must equip people to be active citizens and to care deeply for environmental and social justice. And it will offer a menu of commitments to inspire the pathways to change.
The participants in this new initiative around the world will be far more important, though, than any manifesto that might be its anchor. And this is only proper – for it is in building a community of practice and experimentation that the story of the human will to make democracy fit for sustainability, and resilient in the face of unsustainable development, will come to be told.
Certainly, it seems fair to suggest that the longer democracies delay in taking decisive action to mitigate the pressures of unsustainable development, the less likely democracy will remain intact as pressures turn to crises. A people's movement for change is sorely needed.
Back to that Indian village. How might the story of the two brothers end?
We could imagine that the brothers might come to understand the value of cooperation and common ownership: taking it in turns to feed the cow, sharing its milk, using its manure to fertilise the tree so that it fruits more heavily, and taking it in turns to use the blanket at night. The fruits of the tree might be used to plant new trees, so that future generations too, would benefit from its nourishment, and from the rich soil left by a generation of feeding and mulching.
Alternatively the younger brother, stung by the greediness of his older sibling and his inequitable view of 'equality' might soak the blanket so that it cannot keep his brother warm at night; he might hit the cow so that it kicks his brother; or he might cut down the tree so that his brother could not benefit from more than one more harvest.
And what of the bigger story of democracy and sustainability?
If the fledgling movement for democracy and sustainability is to fly; to spark the imagination and the creative capacity of people around the world; it will need both to draw on stories and quickly to generate its own stories – of urgency, of heroism, of leaders and followers, of danger, of debate, of participation and respect and inclusion – and of community and a shared future that we can all shape through our endeavours, democratically.
The Foundation for Democracy and Sustainable Development, with our partners in Europe, Africa, Latin America and Asia, launched the Democracy and Sustainability Platform, with the Manifesto for Democracy and Sustainability at its heart, in March 2013.
It's a space for you to get involved in too.
www.democracyandsustainability.org
*Dr Sagari Ramdas told a version of this story at a Salzburg Global Seminar and FDSD workshop to refine a draft manifesto on democracy and sustainable development in December 2012. The story had been narrated to her by Fiu Mataese Elisara, Elder and Orator from the Samoan Indigenous people, Samoa.
March 2013