How Greenpeace came about - the inspiration and motivation behind creating it
Credit: 
Greenpeace / Robert Keziere
The Quakers, pacifists, ecologists, journalists and hippies who started Greenpeace dreamed big, infectious dreams.  In 1971 in Vancouver the newly founded  Don't Make a Wave Committee chartered a ramshacle old fishing boat and set off to oppose the testing of nuclear bombs  by the US in Amchitka, Alaska.  It was the beginning of what would become the international movement of Greenpeace and in a few short years Greenpeace had spread to several countries and started to campaign on other environmental issues such as commercial whaling and toxic waste.
In 1972 the US abandoned the nuclear testing grounds at Amchitka Island, Alaska. Many more protests at test sites in the South Pacific followed and led to the comprehensive Nuclear Test Ban Treaty being adopted at the United Nations in 1996.
In the late 1970s the different Greenpeace groups were brought together and formed Greenpeace International to oversee the goals and operations of the organisation globally.  The international profile of Greenpeace was raised significantly during the 1980s when the French intelligence agency bombed the Rainbow Warrior in Auckland, the most famous of the ships operated by Greenpeace, killing one of the crew members,  the photographer Fernando Pereira.  
What it has been successful in achieving and why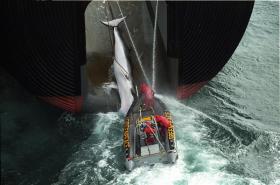 Credit: 
Greenpeace / John Cunningham
In 1982 after years of iconic Greenpeace sea actions against whaling a moratorium was adopted by the International Whaling Commission.  In 2002 there was a major drive by pro–whaling Japan and its supporters to re-introduce commercial whaling, which was defeated by Greenpeace.  We remain vigilant in defending the oceans by challenging wasteful and destructive fishing and campaigning to create a global network of marine reserves. (More on Greenpeace's whaling campaign.)
Greenpeace was one of the first environmental groups to formulate a sustainable development scenario for climate change mitigation and ozone depletion. We played a significant role in raising public awareness of global warming in the 1990s and highlighted the effect of CFCs on the ozone layer.  Greenpeace was one of the leading participants advocating the early phase-out of ozone depleting substances in the Montreal Protocol and developed a CFC-free refrigerator technology, "Greenfreeze" for mass production together with the refrigerator industry.  By 2007 one third of the world's total production of refrigerators were based on Greenfreeze technology. 
The turn of the century saw an ever increasing and significant number of European retailers, food producers, and subsidiaries of multinational companies guarantee to keep genetically engineered ingredients out of their products due to consumer pressure.
In 2008 six Greenpeace UK volunteers were acquitted of criminal damage by a UK Crown Court jury in a case that centred on the contribution made to climate change by burning coal. The charges arose after the six attempted to shut down the Kingsnorth coal-fired power station in Kent in 2007 by scaling the chimney and painting the Prime Minister's name down the side. The defendants pleaded 'not guilty' and relied in court on the defence of 'lawful excuse' - claiming they shut the power station in order to defend property of a greater value from the global impact of climate change. The landmark case marks the first victory of the 'lawful excuse' defense in a climate-change case in Britain.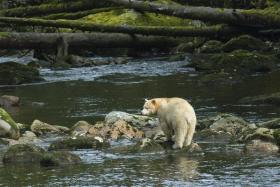 An historic agreement with logging companies was reached in 2001 on the conservation of Canada's remaining coastal rainforest and approved by the government of British Columbia. This followed years of campaigning by Greenpeace, most recently targeting the trade and investments of companies involved in logging the endangered Great Bear Rainforest. It came into force in March 2009, capping one of Greenpeace's longest running campaigns by protecting an area half the size of Switzerland from logging. The campaign was won with non-violent direct action on the ground, consumer pressure, shareholder actions, and thousands of online activists worldwide. 
In 2010 following a two month innovative campaign involving Facebook, Twitter and other social media profiles Nestlé agreed to stop purchasing palm-oil from sources which destroy Indonesian rainforests. This followed a similar campaign against Unilever. Eventually the palm oil company destroying Indonesia's rainforests agreed to a ground breaking deal with Greenpeace in 2012.  And after ten years of constant campaigning, Europe finally banned the trade in illegal timber - a great leap forward in the struggle to protect the world's forests and climate.
What it has been less successful in achieving and why
Atlantic Frontier campaign
Key moments/turning points in its history
1985: sinking of Greenpeace's ship, the Rainbow Warrior, by the French Secret Services.
1995: following a high profile action by Greenpeace, and public pressure, Shell UK reverses its decision to dump the Brent Spar oil platform in the Atlantic Ocean.  The Brent Spar campaign set a precedent for a more open and responsible approach from the offshore oil and gas industry to the decommissioning of obsolete platforms. Before Greenpeace took action against Shell, a number of oil companies had been planning sea-dumping of obsolete installations, such as oil storage buoys and oil rigs. There would have been little, if any, international scrutiny of decommissioning operations – and there would have been a cumulative environmental impact way beyond that of the Brent Spar Greenpeace's action and the support of people throughout Europe, ensured that no such structures have been dumped to this day.
2004: after a decade of lobbying, scientific research, and direct non-violent action by Greenpeace and environmental groups around the world came to fruition as Russia ratifies the Kyoto Protocol, bringing to force the world's sole global effort to address the dangers of global warming.
2008: we opened our first regional office in Africa.  Although we had been working in Africa to end environmental destruction and for the right of Africans to a healthy environment since the early 1990s, the launch of Greenpeace Africa was a huge leap forward in our work to challenge some of the most urgent environmental problems facing Africans today. 
What the organisation has learnt along the way & what you'd draw from this to make future action more effective
Powershift: The organisation as a whole and Europe in particular are looking at new ways of working to shift our focus of campaigning and resources away from the  northern countries to the global locations that are facing the most difficult environmental challenges especially in India, China, South East Asia, Africa and Brazil.  
Mobilisation: Through our mobilisation strategy we aim to capitalise and build upon our traditional strength -- our ability to act as a global organisation -- but with a local, relevant face wherever we are. We want to mobilise people locally, on global issues, inspire them with our trademark vanguard actions, and empower them with the tools they need to contribute to the global shifts that we aim to create.  We want to spark the powerful chain reactions in which wider swaths of the public engage directly with our targets, and in which other actors in society, other organisations, and other activists stand up to be counted. We need to be at the cutting edge of digital innovation to better capitalise on and further develop our strengths and expertise in online activism.
What needs to happen next?
Independence, non-violence, creative confrontation.  This ethos that was framed by the co-founders of Greenpeace is still Greenpeace's today, and just like then, our activists are our greatest strength: ordinary people willing to do extraordinary things to protect the environment. Over the years, they have faced jail, physical threats and political persecution. But they have always remained peaceful. They have always persevered.  And they have usually prevailed.
Reflections on what Richard contributed to the organisation
Richard joined Greenpeace after working with WWF and commented that he was surprised to find that the two organisations were in many ways very similar, "both invest heavily in maintaining their brand in organising coordinated action and campaigning and in honing key communications capacities".   Once working here he very quickly identified that Greenpeace UK needed to adapt to changing times without losing contact with its values.  Within a few years he made what seemed like huge changes to the organisation, introducing working in teams rather than issues-based campaign silos, putting the emphasis on direct communication not just using the media. 
Richard wrote that "of the many things that I gleaned from campaigning with Greenpeace, perhaps the most important, was the significance of being able to campaign on principle - guided by your values, like a compass - as well as strategy, which is more like a carefully calculated route map. What might surprise outsiders, and in particular the many critics of Greenpeace, was how much I also learnt from businesses, which have come to form most of the campaign targets, and many of the allies of the organisation."
This has probably been the most important, lasting legacy. Greenpeace has been very successful at avoiding being co opted and greenwashed while maintaining  a powerful presence in the boardroom of many multinational corporations.  Being respected and feared is critical if we want to make change happen. Greenpeace's independence of both government and corporate funding means that it cannot be easily bought or compromised by the relations it has built across a wide spectrum of society in order to achieve its misson of a green and peaceful world.
December 2012